The numbers , compared to some of the very best.
During ITV's coverage of the World Series of Darts Finals, Chris Mason made a remark in which he appeared to draw comparison between the embryonic career of Josh Rock and a certain Phil Taylor. Inevitably this prompted some debate on social media about whether the 21-year-old from County Antrim is being over-hyped in his debut year on the PDC tour.
Rock's talents were no secret before, and certainly not after, he produced the 4th highest average (121.88) in PDC history against compatriot Brendan Dolan last month (higher than any average officially recorded by The Power himself). Even Barry Hearn publicly voiced his excitement about the young Northern Irishman in an interview prior to that:
"There's one young player in particular that I'm watching a lot at the moment – Josh Rock. Even when he gets beat, he's hitting numbers that means he isn't going to get beat very often."
Is Hearn right? How good are the numbers that Rock is producing, and how does he compare to other players who have enjoyed success in their first year on the professional circuit? We explored this with the aim of providing some context to the attention surrounding the 21-year-old.
From a results perspective, in contrast to the likes of other tour newbies such as Danny Jansen and Scott Williams (who is yet to secure a tour card), Rock is still searching for his breakthrough title. His best results are a semifinal at Players Championship 16 in which he went down with an average over 103 against an inspired Michael Smith, and a quarterfinal at European Tour 10 in Budapest where he was beaten 6-0 by Dave Chisnall. In his only appearance at a major event (the UK Open in March) he lost his first match to Damian Mol in a deciding leg.
Rock has, however, produced numerous eye-catching performances and a level of consistency that has accumulated enough prize money to see him all but guarantee appearances at the European Championship, Grand Slam of Darts, Players Championship Finals and the World Championship. The more casual TV darts fans are soon to see plenty of the young man whom many consider to be the hottest prospect in the game.
Josh Rock's 2022 Season Summary (Ranking Matches)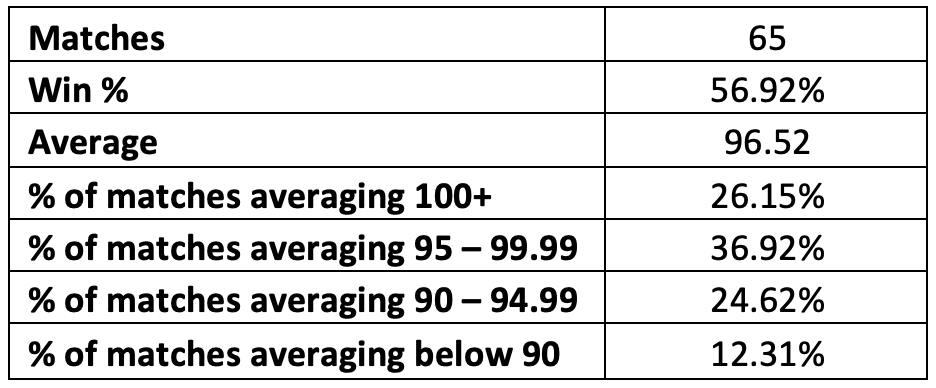 As we have alluded to in previous blog posts, averages are certainly not everything but they remain darts' staple statistic and its single most reliable indication of success. Rock has averaged over 100 in 26% of his ranking tournament matches this year – a higher percentage than multiple 2022 ranking title winners Joe Cullen (21%) and Nathan Aspinall (22%). It is a shade lower than Danny Noppert (27%) and Michael Smith (29%).
Multiple 2022 Ranking Title Winners v Josh Rock – Averages and % of Matches with 100+ (ranking events)

Assuming he sustains it, Rock's current ratio will also be higher than any other debutant in the Dart Connect era, with the next best coming from Jose De Sousa (24% in 2019), Glen Durrant (22% in 2019) and Damon Heta (22% in 2020). De Sousa and Durrant, of course, both went onto win major TV titles in their second years in the PDC.
Top 4 Debut Seasons in Dart Connect Era by Averages & % Matches with 100+ (ranking events)

All of Rock's great debut season comparators landed at least one title. He still has many more opportunities to do this before the year is out and his average of 96.52 is superior to those other players; placing him 11th on the PDC tour on this metric in 2022.
Probably the most outstanding debut year of this era to date, belongs to 2020 Premier League Champion Glen Durrant (it is a shame Rob Cross's occurred just before this, which makes it harder to compare underlying numbers). Duzza's highly anticipated switch to the PDC saw him enjoy a bumper 2019 that culminated in him reaching number 22 in the PDC Order of Merit – a remarkable achievement. Durrant did, however, enter the PDC ranks as a three-time BDO World Champion and a recognised force within the darting community. Rock was a virtual unknown when arriving at Q School to earn his card in January.
Delving into the data more deeply, Rock's numbers stack up against those of Durrant in 2019, with the notable exception that may go some way to explaining his lower win percentage, being his relative weakness on doubles. At a percentage of 38.14 for the year he is no slouch, but is some way below Durrant at 41.77, and even further behind the leading lights of the PDC in 2022 (Damon Heta tops the pile with over 45%). Using Darts Orakel data and assistance, Rock's management have already begun investigating his accuracy on different sections of the board with a view to honing his development and optimising his checkout sequences, an initiative that has shown signs of a discernible recent impact – since the beginning of June, his checkout percentage has increased to 41.07, elevating him from 62nd to 22nd on the Tour in that period. Such focus could see him further improve his consistency at closing out legs and render him an even more dangerous opponent as we enter the final stretch of the season, when most of the big prizes are up for grabs.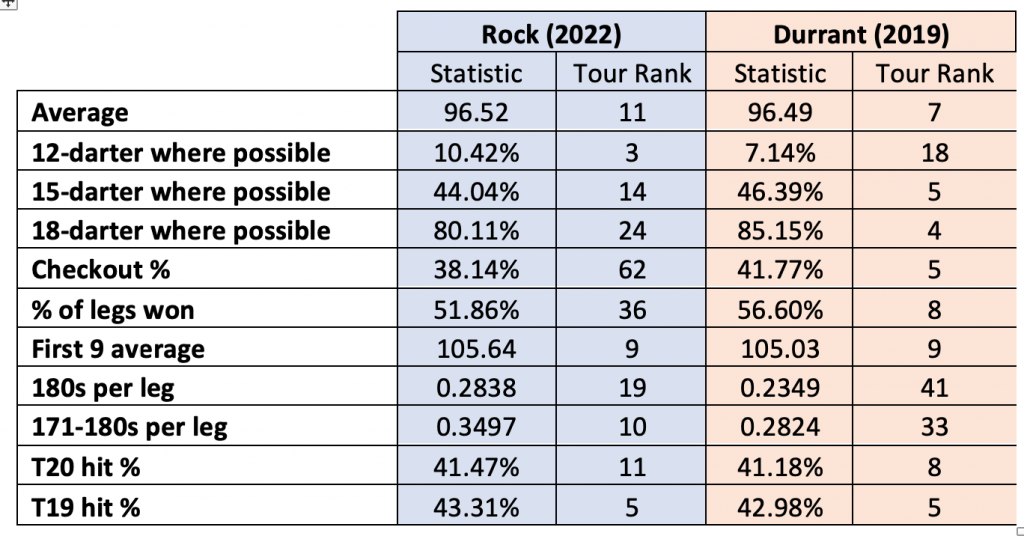 Arguably Rock's standout statistic is the proportion of legs that he has finished in 12 darts or less, when possible (in other words, excluding legs when his opponent did not afford him a 4th turn). Scarily, only Michael van Gerwen and Peter Wright surpass him on that metric in 2022, and not by much.
Rock clearly has the A-game to rattle the elite. Perhaps more surprising, though, is the quality of his B-game. His consistency is illustrated by the fact he has averaged 95 or more in 63% of his matches, and with just 12% of his averages being below 90, this is one of the best ratios in the PDC. Going into the last European Tour event, Rock had recorded the joint fewest number of sub-90 averages of any player playing more than 40 ranking tournament matches up to that point in 2022. As Dan Dawson said in commentary: "even when he's bad, he's good."
As well as his exploits as a Pro Tour competitor, Rock has been dominant on the Development Tour, winning four events and topping the Order of Merit. This has included a staggering run of 22 straight matches without losing (and an even more staggering 13 whitewashes within that). He was finally knocked off his perch by Gian van Veen, who earlier in the day had registered an average of 115.92 in winning his Last 64 match – a sign of the young Dutchman's pedigree and the strength in depth of the field that Rock had spent the last couple of days tearing apart.
Two other players spring to mind who recently came from the Development Tour with big reputations: Luke Humphries and Callan Rydz. Both went onto make waves in the professional game, have won multiple titles and in the case of Humphries, is already one of the most successful Euro Tour campaigners in history, grabbing four titles in 2022 alone.
We looked at the debut seasons of Humphries and Rydz across the same range of performance indicators.
Development Tour Giants: Rock, Rydz, Humphries – Debut Pro Tour Years

Rock has been equal to or better than both Rydz and Humphries in almost every department, in their debut years. Added to that, he is slightly younger than the other two were in their first PDC seasons as tour card holders.
Rock's powerful scoring and seemingly unwavering consistency have been a hallmark of a memorable introduction to the PDC Pro Tour. Only the best of the best in the sport command better numbers. Based on these, it is a surprise that he is yet to make a final. He is almost without question the most exciting young player in the PDC and with four major appearances on the horizon, it will be intriguing to see whether he can carry forward the same brilliance under the bright lights of the televised stage, at a time when his profile is rising, along with expectations of him performing . If the underlying numbers continue, then as Hearn suggested, it would be strange not to see Rock racking up the wins, and eventually the titles.
James Lincoln