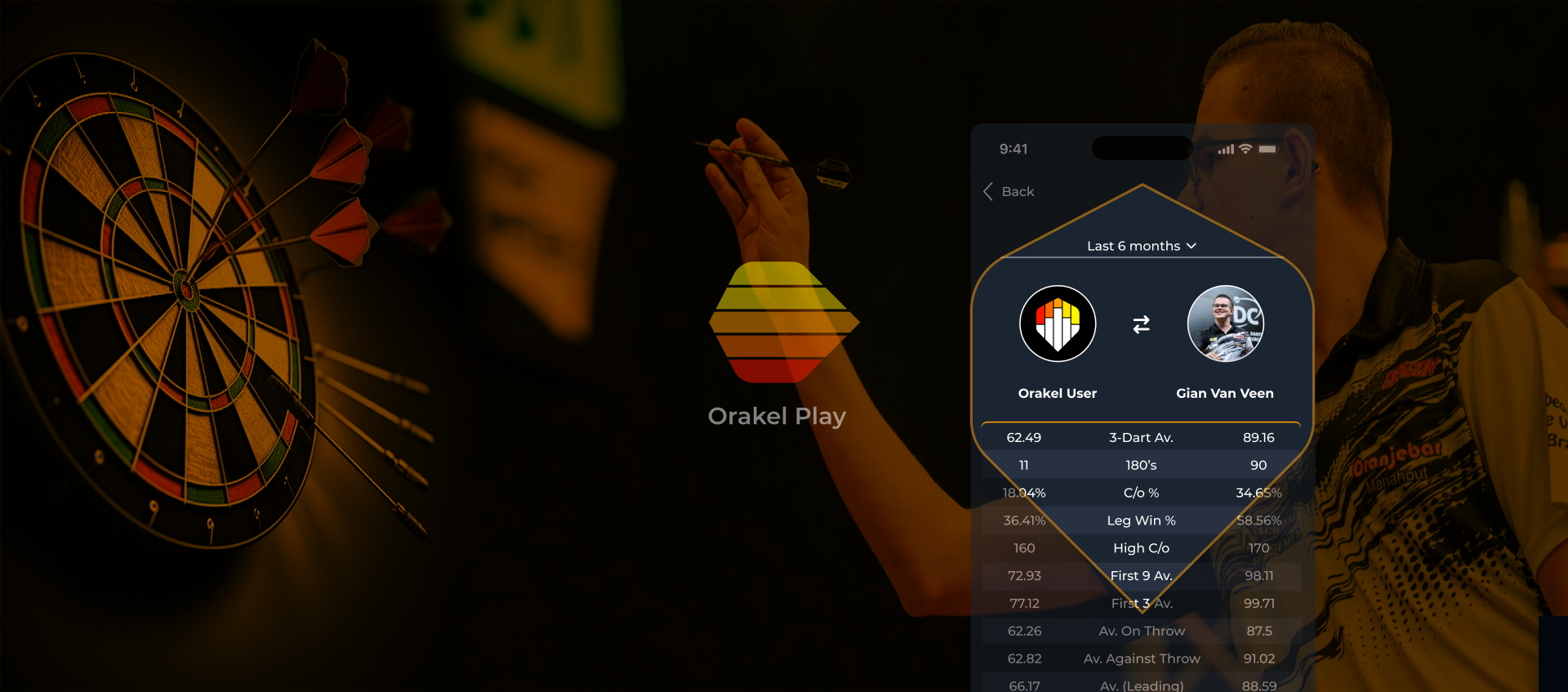 Elevate Your
Game with the
Darts Orakel
Play App!
Play darts, connect to our database,
measure your performance and track your journey
Enter site and sign up.
Then install the app using the same log in
What you don't know will hurt you.
Stats Library
Browse the most extensive statistical repository in the world of darts.
Prediction Tools
Check the latest form and generate probabilities for any match or major tournament.
Performance Portal
Auto generated in-depth analysis and reports of performance and performance trends for any player.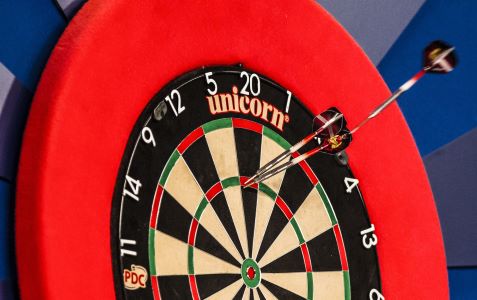 Improvement Starts With Knowledge.
Darts Orakel is the pre-eminent collector and supplier of darts data for all levels of the game, packaged in ways that enable players, fans, analysts, pundits and the broader darts industry to get the best insights. Our statisticians in Germany, UK, Netherlands and the USA are the engine of our products and services and allow us to provide data in depth that nobody has had access to in the world of darts before.
Everybody has a world ranking. Some don't know it yet.
Stat libraries, predictive tools, in-depth player performance reports or the world renowned FDI rankings, there is something for darts enthusiasts of any level, from those who want to casually browse darting records or those who want to analyse form and work out the probability of future outcomes. Our website and mobile apps enable anybody to explore past dart stats to their heart's content, as well as offering more advanced, paid packages that do the exploration work for you.
Player & Event Stat Libraries
Browse the most comprehensive historical statistics repository in the world of darts. Most stats you can browse for any player, over any time period for at least the previous five years with more basic stats going back through more than 25 years of darts tournaments. Averages, doubles, nine darters, legs won on and against throw, deciding leg performances, individual segment accuracy, 180s per leg, scores of 177+ and other stats created and collected by the Darts Orakel analysts that you will only find here, like our unique Functional Double Percentage which excludes missed darts that don't allow the opponent back to the board. Want to know who is better on Double Top out of Gerwyn Price and James Wade? Our Double Stats section will have it. We also have a unique Checkout Record for every player on every finish on the board from 170 down.
FDI Rankings
The fairest and most current ranking system in the World of Darts? The Faria Darting Index is based on proprietary formulae assessing the form of every dart player on the planet with at least one result in our database. FDI transcends darts codes and covers PDC, WDF, Amateur Darts Circuit (ADC), all supplementary tours of the PDC and pretty much any event, anywhere in the world that is recorded online. Ranking systems often take time to adjust to the reality of a player's form - FDI conquers this problem and provides you with the most up to date ranking system you will find anywhere, if you want an alternative view of a player's form.
Predictor Tools
Powered by the FDI system, our Predictor Tools allow you to view auto generated probabilities of match and tournament outcomes as well as qualification cut-offs for events. Our head-to-head tool enables direct comparison between any two players in the database, providing probabilities of each match outcome alongside all key statistics in the last 12 months for both players, side-by-side. Our probabilities have a 70%+ accuracy rate across matches in all codes.
Performance Portal
Designed mainly for corporate use, our Performance Portal allows you to dive deep into the statistics of a player, two players alongside each other over any given time period, or fields of players for events, and to generate ready made reports. These can be split into three data categories: scoring, finishing, and darts under pressure. The portal also compares current FDI rankings with official World Rankings to instantly identify who is punching above and below their weight on current form.