Who hits the most and least three figure averages? And who translates them into results?
You've probably seen a stat this year about Gerwyn Price having more 100+ averages in 2023 already, than in any other year in his career. The Welshman has indeed hit that benchmark in 43.5% of all matches played this season – comfortably the highest in the PDC. By comparison, Michael van Gerwen in 2022 (a year in which he won four major TV titles) did it in 41% of his matches. Once the undisputed King of the high-flying averages and a banker for a ton-plus, the Dutchman is some way behind on 30.6% of his matches in 2023. Sandwiched in between him and Price are another couple of stalwarts of the modern game: van Gerwen's old adversary, Gary Anderson in second (36.3%) and Dave Chisnall (32.7%) in third. The Green Machine being fourth on this measure would have been unthinkable three or four years ago, and is even surprising now.
At the other end of the scale, van Gerwen's mate Vincent Van der Voort has played the most matches this season without one. Van der Voort is 61 games and counting. His last ton-plus in the PDC was 324 days ago at the time of writing – a 102.09 in October last year against Raymond van Barneveld in a Players Championship. He is one of eighteen players on the Pro Tour to have failed to register one this year, including past title winners such as Danny Jansen and Devon Petersen. Petersen last posted a three-figure number 158 matches ago, against Jeff Smith in 2021 when he recorded a 105. He had also averaged 109 the match before. Who'd have thought, after back-to-back matches like that, that his current run would have unfolded?
For all his impressive numbers, Price might consider himself a little disappointed having not captured a TV ranking title since the 2021 Grand Slam of Darts. The Grand Prix in October seems ideally suited to him and all things considered, you'd think he would start favourite for that one, if not the preceding European Championship in Dortmund.
Luke Humphries completes the top five of ton-plus merchants, hitting the mark in 30.4% of matches. In sixth we have a newcomer. Gian van Veen sits there, with an impressive 27.9% of his matches yielding an average over a ton from the young Dutchman. What's even more remarkable about GVV's debut season is that he has had such averages thrown at him in a higher proportion of matches than anybody. In 21% of his encounters, his opponent has averaged over 100. Humphries and van Veen, along with Gary Anderson, also comprise the top three players by the percentage of matches that they have at least averaged 90. All three are around 95% – a demonstration of very solid 'B' and 'C' games in 2023.
% of matches averaging over 100 in 2023, of the top 64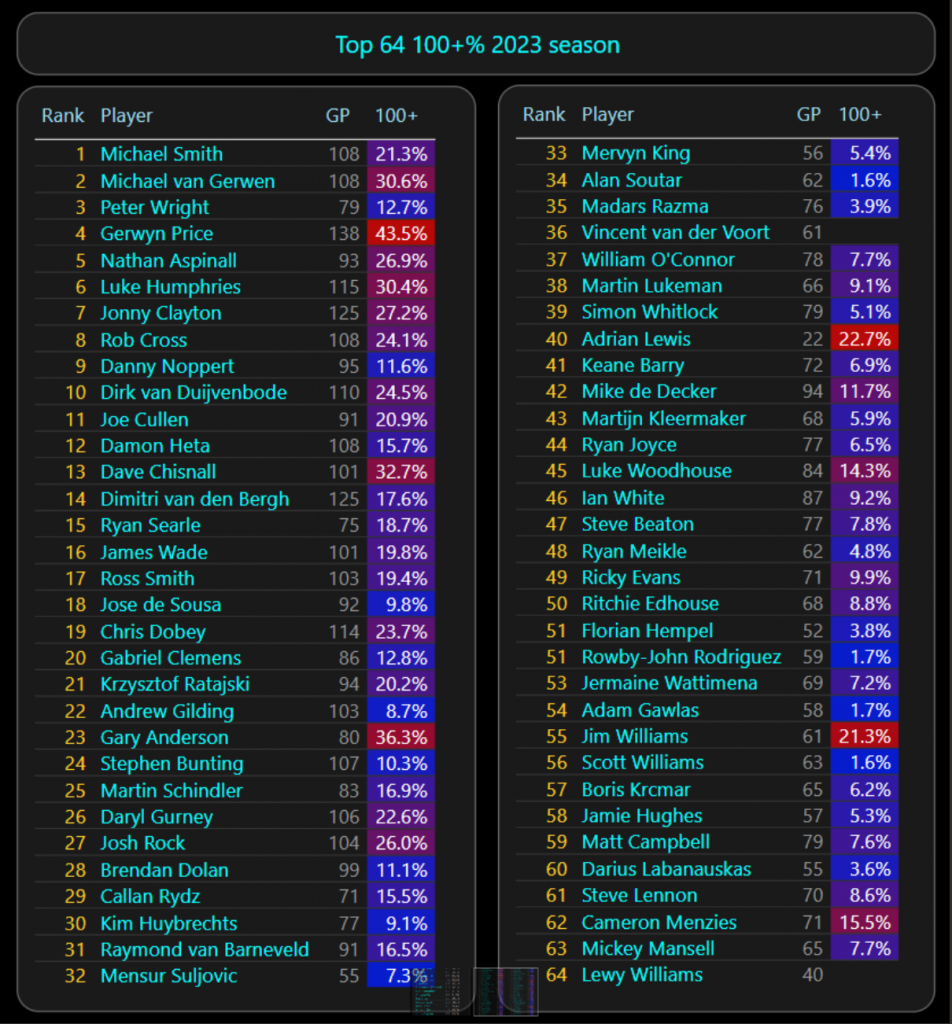 Price sits atop another 100 club – he became the first player to win a century of matches in 2023 with his semifinal win over Daryl Gurney en route to clinching Players Championship 21. And this leads us onto the most important question: who converts their performances into the most victories? The answer to that question is Humphries. Cool Hand has won 85 of the 115 matches he has played this season (73.9%), a shade ahead of Dirk van Duijvenbode's 73.6% and Price's 73.2% (NB – Price of course took part in the Premier League, where he was up against the beasts of the game every week). Humphries' achievements arguably deserve even more credit when you consider that, behind van Veen, he has faced the most 100+ averages from opponents as a percentage of his matches.
You always expect van Gerwen to be somewhere up there on match win percentage and alas he appears at number four with a 69.4% win rate. Behind him are Josh Rock (67.3%), Damon Heta (67.6%) and a resurgent Daryl Gurney (67.0%).
It seemed like not long ago that it was only really Phil Taylor who broke the hundred barrier with any regularity and it still holds as a yardstick of an elite level performance, win or lose. How long before we're counting 105s and 110s instead?
Colin Harris