Is there much behind past records in darts?
Chris Dobey threw eight perfect darts on the spin to finally close out the match against Michael van Gerwen in the first round of the European Championship in Dortmund on Friday, registering his only win against the Dutchman in twelve career meetings. The way Dobey finished the match was flawless, and all the more surprising after he had wobbled on a 4-2 lead and looked as though the ascendancy he so richly deserved was going to be handed on a plate to his opponent. Before the concluding brilliance, Dobey missed dart after dart at double (eight at Tops alone), leading to the inevitable assumption that the mere presence of MvG had, yet again, sucked in his man.
Head-to-head records are cited as much as any other statistic when two players meet, and the players themselves seem acutely aware of them. Before his second-round match at the Grand Prix against Adrian Lewis, in an interview for Sky Sports Dobey said "I've got a good record against him (Lewis). That's in my head and hopefully it will be in his too." Dobey duly won – his sixth on the bounce versus the two-time former World Champion and the third in which he has pipped him in a last leg shootout. Presumably, the MvG record was also in Dobey's head in Dortmund last night, only this time he managed to overcome it.
Nathan Aspinall, in his post-tournament reflections on his run to the final in Leicester, described Danny Noppert as a tough opponent but one who he has had the measure of in the past – clearly a factor that The Asp felt counted for something. He won the match, when possibly he shouldn't have done. Was this merely an afterthought of the Grand Prix runner-up or was he sizing Noppert up in that way in the build up to, and during, their time on stage?
"Styles make fights" is an expression used in boxing, referring to the idea that pure ability isn't the only determinant of how a duel is likely to pan out. This is logical in any sporting contest where participants can make their opponents' immediate task more difficult. Tennis is another example – the now retired Roger Federer struggled to combat his great rival Rafael Nadal, whose defensive strengths often frustrated and wore down the more swashbuckling style of the Swiss. Even when Federer was the dominant force in Tennis and Nadal a rising star, he couldn't always get to grips with the Spaniard and his tenacious defence of the baseline, which often caused Federer to take more risks, and in doing so, produce more errors.
In darts, the same doesn't apply. Players have a score of 501 to reduce, turn by turn until they finish. A player can't add to their opponent's score, move the target or increase the length of the oche.
So why do we think head-to-heads in darts are anything more than an illustration of which player has the higher level of general ability at that point in time, or random patterns that you would expect when the probable outcome is close to 50/50, combined with some occasional outliers?
To look for clues it is only worth examining those head-to-heads that contradict what we might have guessed. MvG versus Dobey isn't really one of those – whilst you might imagine Dobey would have fared a little better, he would have been a significant underdog in every one of those meetings. Dobey and Adrian Lewis is a different story though.
Lewis's stature in the world of darts may suggest that in the period between 2015 and today, a 1-7 losing record to Dobey is a surprise. During that time 'Jackpot' won three televised titles (one the World Cup) and an additional five Players Championship events. Over the same timeframe Dobey's return is a couple of Players Championships. Three of Dobey's wins against Lewis came between 2015 and 2018. Lewis entered their Last 16 tie at this year's Grand Prix as favourite (although not overwhelmingly so) and was again undone. Perhaps a strange trend, but not all that strange when you delve deeper – the other two of Dobey's wins came in his best year (2019) in which it could be said that Lewis was in decline. That year, Dobey averaged 94.31 to Lewis's 93.25 – an indication that at that time, Dobey's general level of play was higher. By the time of his latter wins, Dobey was the higher ranked player. Add to this, that one of the defeats in 2016 was in a shorter format at the Grand Slam (a match in which Lewis averaged 108), and the pattern starts to look like nothing more than a fairly predictable, circumstantial set of events, rather than some mysterious hoodoo.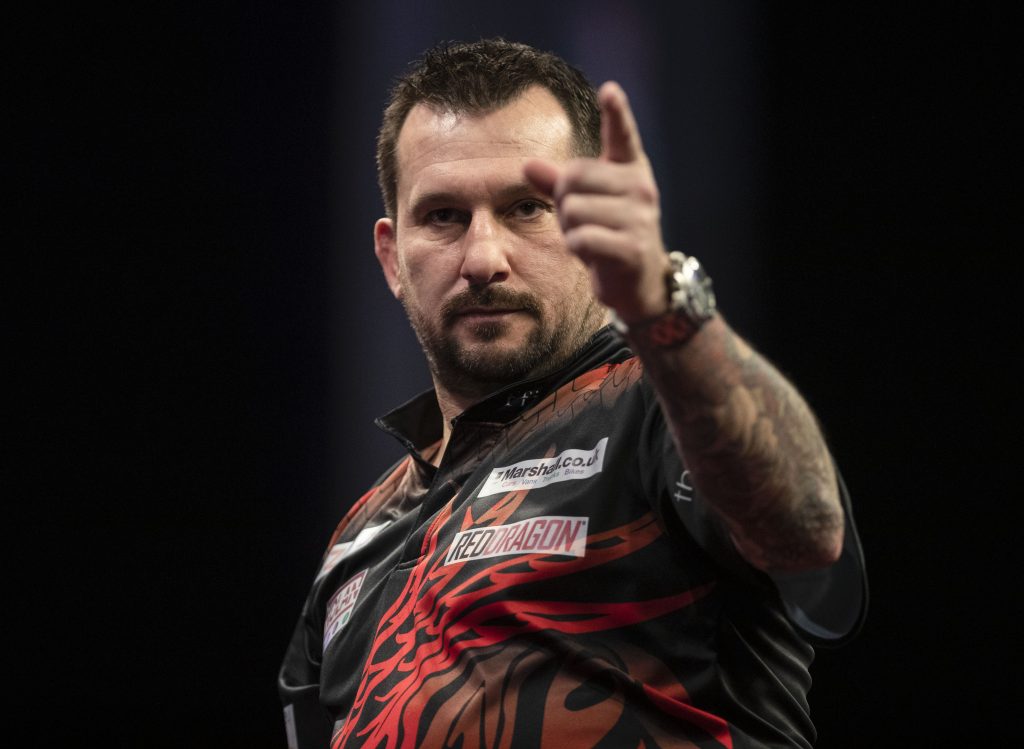 Two more emergent patterns that have caught the eye, involve MvG. One is against Jonny Clayton and the other, Simon Whitlock. Clayton has played MvG nineteen times in the last three years and won eleven of them. He won six of their ten matches in 2022 and five of seven of their meetings in 2021. A shock? Not necessarily so. In 2021 Clayton averaged only a fraction lower than MvG (0.5 points) for the whole year and had a higher average on TV. He also won more televised titles than anybody.
When you look at the respective achievements of Clayton and MvG in 2022 alone (MvG leads the title count 9 to 1), those last 10 matches do look a shade odd, although it is only just better than half and half in Clayton's favour. There are no obvious signs that the Clayton style could be disruptive to MvG – both players operate at a lively pace and there is no needle that we are aware of (Clayton's persona is up there with the friendliest, least offensive, and least controversial of any potential opponent). Everything accounted for, the last two years between Clayton and MvG doesn't look that peculiar.
The Simon Whitlock one is more intriguing. Whitlock has won his last six matches against MvG; three of them on deciding legs (he was against the throw in one of those). Prior to this streak he had lost fifteen consecutively. It was the 2020 World Matchplay quarterfinal when he ended that run, after which another win over MvG at the Grand Prix the same year followed. At that very Grand Prix, Whitlock was accused of slow play in the subsequent round against Dirk van Duijvenbode. Less than a year earlier Gerwyn Price also took aim at Whitlock for what he described as 'pathetic' slow play at the 2019/20 World Championship. This is something the Australian has been increasingly associated with in the second coming of his career. Is it possible that his pace has unsettled, and gone some way to accounting for, MvG on those six occasions?
This thought led us to look at more match ups of contrasting speeds with players of reasonably similar ability. To a degree, Michael Smith and Rob Cross fit this bill. Whilst you may not call Cross 'slow' he is noticeably more methodical and ritualistic than the rapid-fire Smith. The head-to-head doesn't make good reading for Smith – he has lost 17 of their 22 encounters. Most of these came within the golden chapter of Cross's career to date, a time during which he rose to the heights of World Champion and added the Matchplay (beating Smith in the final) just over a year later. But they also coincide with some of Smith's best years, and whilst Cross might have been the World Champion in 2018, most people would not argue by any means that Smith was a far inferior player during this period (Smith has won more tournaments than Cross since the start of 2017).
Smith has a dubious history against Mensur Suljovic too, one of the renowned slower players. Smith has lost six and drawn one of their last twelve games, over a period of time in which he has won almost three times as many titles as the Austrian. He has a similar, almost 50/50 record against Gary Anderson despite the fluent, no-nonsense Anderson having the stronger pedigree – even in 2018 when Anderson was a multiple TV major winner and tussling with MvG for supremacy, Smith won four of their five contests. His record against Gerwyn Price is slightly better still – in fact the Bully Boy shades that one over thirty-six matches played. Against the more deliberate style of Peter Wright, he has lost two thirds of his matches. He also has a losing record over nine matches played against Dimitri Van den Bergh.
There could be something in the contrasting rhythms of two opponents, judging by this, and it might even go some way to explaining another player that has done well against MvG: Glen Durrant. The two have met seven times and MvG only managed to beat Durrant once before his 2020 Premier League win, the point from which most people recognise Duzza's alarming decline to have begun. Prior to this, MvG had lost three and drawn one. In the twilight of his career, Phil Taylor also managed to thwart MvG in his fair share of big matches, despite at the time, his younger rival being head and shoulders above him and everybody else on planet darts.
Is the pace of play a genuine factor then? After all, it still doesn't physically affect the difficulty of hitting a target from 7ft 9¼ inches away. Furthermore, why doesn't the pace of quicker players appear to adversely affect the performance of slower players?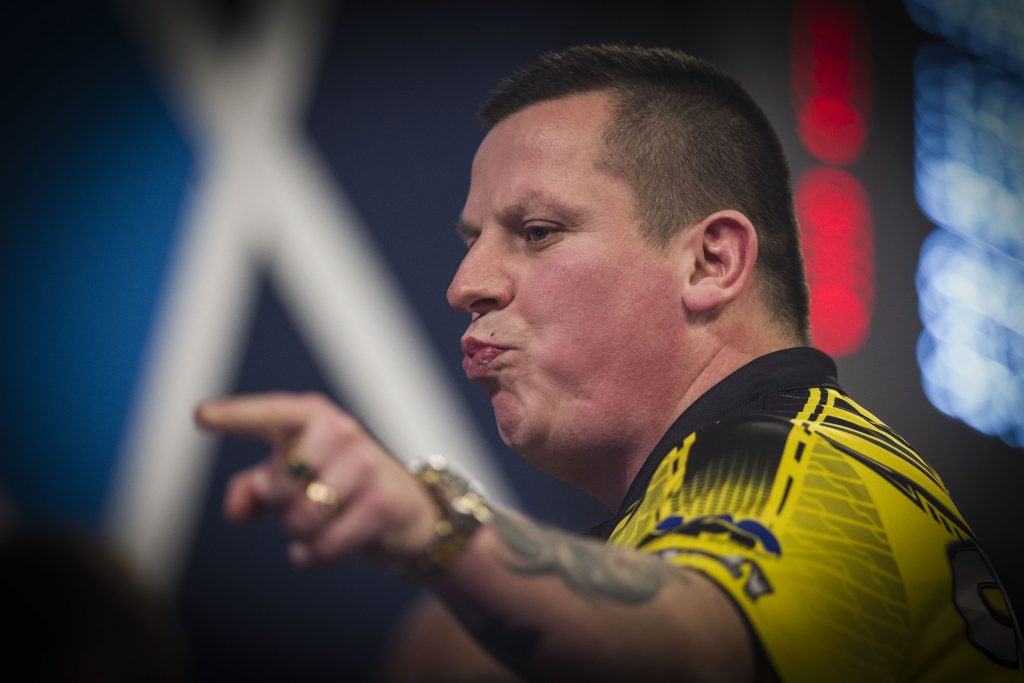 Most research into performance suggests this could be more an issue of how much you are actually thinking about it – the more things you think about, the less likely it is that you will perform optimally when in the moment. 'Here we go again', 'I always lose to this person', 'why doesn't he speed up?' etc., etc., are all mental distractions. Author and Social Scientist Katrina Schwartz touched on this in an article in 2014: "When the stakes are higher and the brain is actively over-thinking something, it can interfere with processes that have become routinized, causing behaviour or performance to suffer."
This indicates that it will become an issue the more someone is aware of a record against one of their opponents. This is intuitive, but the more interesting part is that, at least in theory, it should be equally distracting whether you are reflecting on a good record or a poor one. Perhaps the best approach is total obliviousness (easier said than done) or being able to trivialise it in when in battle, regardless of whether it creates good or bad memories.
Dave Chisnall, after securing his second consecutive 6-0 whitewash on TV over Stephen Bunting, seemed somewhat unaware of the depth of his recent winning run against his St. Helens pal. When asked about his record against Bunting, Chisnall replied "I know I've won the last couple." He has actually won the last eight.
Perhaps The Bullet was more aware of that stat than Chizzy was.
Chris White