Trends in Premier League Averages.
A couple of years ago James Wade made a comment in an interview about PDC tournaments becoming easier to win than ever before. It drew a modest amount of support from pundits and past players but in the main attracted criticism and seemed contrary to popular opinion.
In the last Darts Orakel blog article we analysed the recent winning form of Michael van Gerwen compared to his dominant years. As part of that we assessed the standard of the Pro Tour in general and noted that there was greater strength in depth, with more players able to consistently produce averages of 95+ over a season (the number of players doing this has been trending upwards since 2016). Whilst the range of players capable of a world-class level is expanding and therefore making the earlier stages of events less predictable, there is evidence to suggest that at the business end, the standard of play required to get the job done is no longer what it was.
On Thursday night in London, the Premier League produced its lowest overall average for a night in the league phase (91.56) since at least 2013 (we are unable to verify the precise nightly averages for every night prior to that). Averages are not the only barometer of performance as we know, but they remain the single best indicator out of those that are widely used within the sport and have an 80%+ likelihood of corresponding to the win/lose outcome of a match. Our review of this subject focuses on averages only.
The second lowest average for a night in the League phase of the competition came in 2020 and the lowest average for a Premier League night at any stage, was also in 2020 – the night of the playoffs when Glen Durrant lifted the trophy.
The Premier League is a useful yardstick of the standard of the game's elite, with it representing a selection of the world's best including the PDC Order of Merit (OOM) top 4. Of its participants, only Clayton and Cullen sit outside of the top 8 in the OOM, and few would argue Clayton's status as a top 8 player right now anyway.
One thing is very clear – competing in the Premier League in 2022 does not entail coming up against anybody of the consistently high standards of Michael van Gerwen in the years 2013 to 2019, or Phil Taylor in pretty much any year that he played. van Gerwen himself is leading the averages table in the Premier League in 2022 (98.98), with Clayton second on that list (98.09). As far as our records go back, a Premier League has never finished without a single player averaging more than 99 for the event. Relative to their PDC seasons van Gerwen is slightly down, and Clayton is slightly up, suggesting we might not see much fluctuation in those stats before the conclusion. Two questions immediately spring to mind on the back of this: one is whether van Gerwen and Taylor were single-handedly responsible for the 99+ trend, and the other is whether the new format has impacted this year's output.
On the impact of the new format, we can only speculate. There are arguments of tiredness from playing multiple matches on each night, although this contradicts the trend of a higher concentration of 100+ averages happening in finals than there has been in semi-finals, and a higher concentration in semi-finals then there has been in quarter finals.
Percentage of Matches Producing a 100+ Average in Each PL Round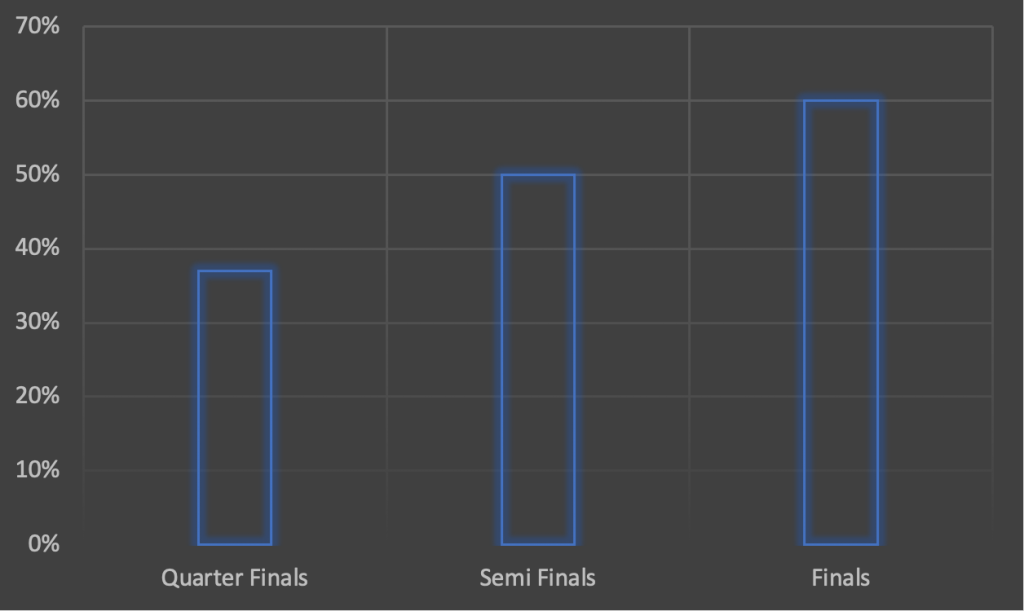 The finals have also served up two of the three highest winning averages in the competition, and four of the top ten, despite making up less than 15% of all of the matches played.
Winning Averages in the 2022 Premier League
| | | |
| --- | --- | --- |
| Round | Player | Average |
| Semi Final | James Wade | 114.73 |
| Final | Peter Wright | 113.02 |
| Final | Jonny Clayton | 111.16 |
| Quarter Final | Jonny Clayton | 109.10 |
| Semi Final | Gerwyn Price | 108.90 |
| Quarter Final | Gerwyn Price | 108.54 |
| Semi Final | Jonny Clayton | 106.64 |
| Final | James Wade | 105.48 |
| Final | Gerwyn Price | 105.32 |
| Semi Final | Michael van Gerwen | 104.37 |
4 of the top 10 averages in the 2022 Premier League have come in a final.
Wade's performance in Dublin (statistically the finest of his career) is the only one to make the all-time top 10 in the Premier League, and out of the all-time top 20, 18 were registered before 2018. Wade, Wright and Clayton, plus another performance from Wright in 2020 (110.00 against Nathan Aspinall) are the only entrants into the all-time top 40 in the Premier League that have occurred in the last three years. Admittedly, 26 of those 40 belong to the outliers that are Taylor and van Gerwen.
In addition to Taylor and van Gerwen, the following players have all previously averaged 99+ over an entire Premier League event (in reverse chronological order): Jonny Clayton, Dimitri Van den Bergh, Jose De Sousa, Peter Wright, Rob Cross, Mensur Suljovic (despite being eliminated on Judgement Night on that occasion), Gary Anderson and Dave Chisnall. Raymond van Barneveld has also been just shy of 99 on several occasions, indicating that a prime version of Barney would be in contention now. Of the above list, three of these were in 2021 (the vast majority of which was behind closed doors, but that's another piece of research entirely). All others were pre-2020 and Van den Bergh is in fact the only player to average 100+ in the league since van Gerwen last won it in 2019.
We can also look at the lower end of the averages spectrum. In 2022, 3 of the 8 participants are averaging below 95 for the tournament: Cullen (92.08), Anderson (93.95), and Wade (94.26). Wade looks odds-on to make the playoffs and Cullen has a fighting chance after his second win on Night 15. Since 2007, only five times has a player made the playoffs with a sub-95 average, and not since 2008 when both Adrian Lewis and Raymond van Barneveld qualified in those circumstances, have two players done it. The last time anybody qualified with a league average below 95 was in 2012, when Andy Hamilton made it through with 94.54.
Lowest Averages in Qualifying for the Playoffs
| | | |
| --- | --- | --- |
| Year | Player | League Average |
| 2008 | Adrian Lewis | 90.94 |
| 2007 | Dennis Priestley | 92.46 |
| 2011 | Raymond van Barneveld | 93.47 |
| 2007 | Terry Jenkins | 93.72 |
| 2008 | Raymond van Barneveld | 93.77 |
| 2010 | Mervyn King | 94.20 |
| 2012 | Andy Hamilton | 94.54 |
Andy Hamilton is the last person to make the playoffs with a tournament average under 95.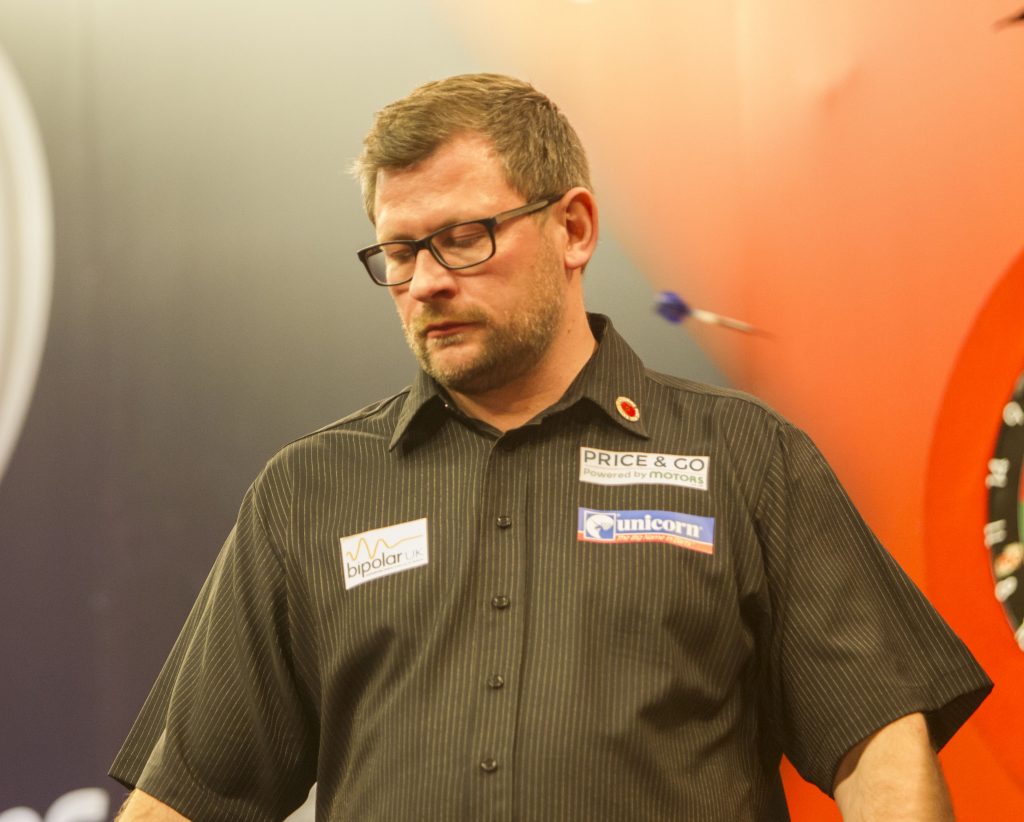 Sub-95 tournament averages are indeed a rarity in the Premier League irrespective of qualification cut-offs. If Cullen, Anderson and Wade ended their campaigns somewhere around their current numbers, it could be the first time since 2013 that 3 Premier League participants have averaged under 95 for the tournament, and only the 5th time since 2008.
As stated before, averages are not the only sign of quality and the Premier League is not the only reflection of darts' elite, but if it is anything to go by then James Wade's view expressed back in 2020 has more than a little weight, and he could be a beneficiary of that prophecy again when the spoils are awarded in Berlin.
Editorial staff