In numbers.
The sight of Gary Anderson rattling in 180s and dispatching opponents in the process, is one that darts fans have been longing to see again. Ever since his enforced break from the sport in 2019 and lockdown the following year, the Flying Scotsman has lacked motivation, by his own admission, to put in the hard yards. As pleasing as it is to see him looking at ease on the oche in 2023, is the sound of him talking about practicing with fellow professional Ryan Searle. He has been willing to enter the trenches of the European Tour qualifiers once more too. The former back-to-back World Champ has the bit between his teeth.
Results speak for themselves: winning a Pro Tour event for the first time in three years and reaching the final of another, both within the first three months of the season. It's the numbers behind the results that are most eye catching though, suggesting plenty more silverware is heading the way of one of the game's all time greats, if his renewed enthusiasm remains intact.
Old adversary Gerwyn Price looks back to his brilliant best too – winning the last Euro Tour event and picking up three nightly wins in the Premier League as he chases down van Gerwen for top spot. Many would argue Price is the world's best player right now but it is Anderson who tops the averages table at this stage of the year, posting 98.74 across all matches combined, to Price's 98.54 in 2nd. Anderson has also dealt with Price in their two meetings on the Pro Tour in March.
Prime Anderson was renowned for his monstrous scoring, with maximums galore doing much of the damage. He had the luxury of being patchy on doubles at times, due to the space he gave himself by obliterating the Treble 20 from the off. A similar pattern is evident in the first three months of 2023: he is throwing 180s at a higher rate per leg at this stage of a year than in any other since his last World Championship title (2016). Let's not forget, in 2018 he had already won the UK Open and two Players Championships at this stage of the year (before going on to add the Champions League of Darts, World Matchplay, a World Series event and another Players Championship). His 180-per-leg rate of 0.36 is slightly behind only Dirk van Duijvenbode (0.40), Ross Smith and Dave Chisnall (both 0.37).
With 180s flying in, it stands to reason that he would also be high up on the First 9 average metric. Indeed, Anderson is #1 of all Tour Card holders on this too, with an average just shy of 109 (Price is 2nd again, about 0.60 points behind). Referring back to his last major winning year (2018), this is two points higher than it was then (although in 2017 it was higher than both of these years, at 112.15).
Anderson is hitting the target with a higher percentage of darts aimed at Treble 20 than any other player (44.56%). This number combines his known attempts on TV and stream, with a formula we use to estimate these accuracy levels for all players in all floor events. Last year he was only 41.31%. Perhaps more surprisingly, he has also been the most precise when switching to Treble 19, landing an insanely good 46.83% of his darts and pushing Treble 19 beasts like Dave Chisnall, Michael van Gerwen and Krzysztof Ratajski into 2nd, 3rd and 4th place respectively.
On the outer ring, Anderson in his heyday relied mostly on Tops to close legs out. For the whole year in 2018 he was 46.93% on stage on that segment – substantially better than he has been this season (he is 38.24% since the beginning of The Masters). His overall checkout percentage is almost identical to his Tops percentage this year (38.25%), which places him somewhere in the middle of the pack when comparing him to his fellow Tour Card holders. In spite of this, it's still roughly a 1-point improvement on 2022 and a 2.5-point improvement on 2021, when he was 35.81%. It is heading in the right direction. Anderson throws way more darts at Tops than any other double, so if he can find his range something like he used to and claw that percentage closer to his pomp, the overall double percentage would rise accordingly towards the 42% that it was in 2018. If this happens, rivals should be concerned.
What is the Anderson revival down to? There is no doubt practice helps, and mammoth sessions against Searle won't have done any harm at all. Searle himself put the world on notice at the start of the year by stating how scary his buddy had been in some of those sessions.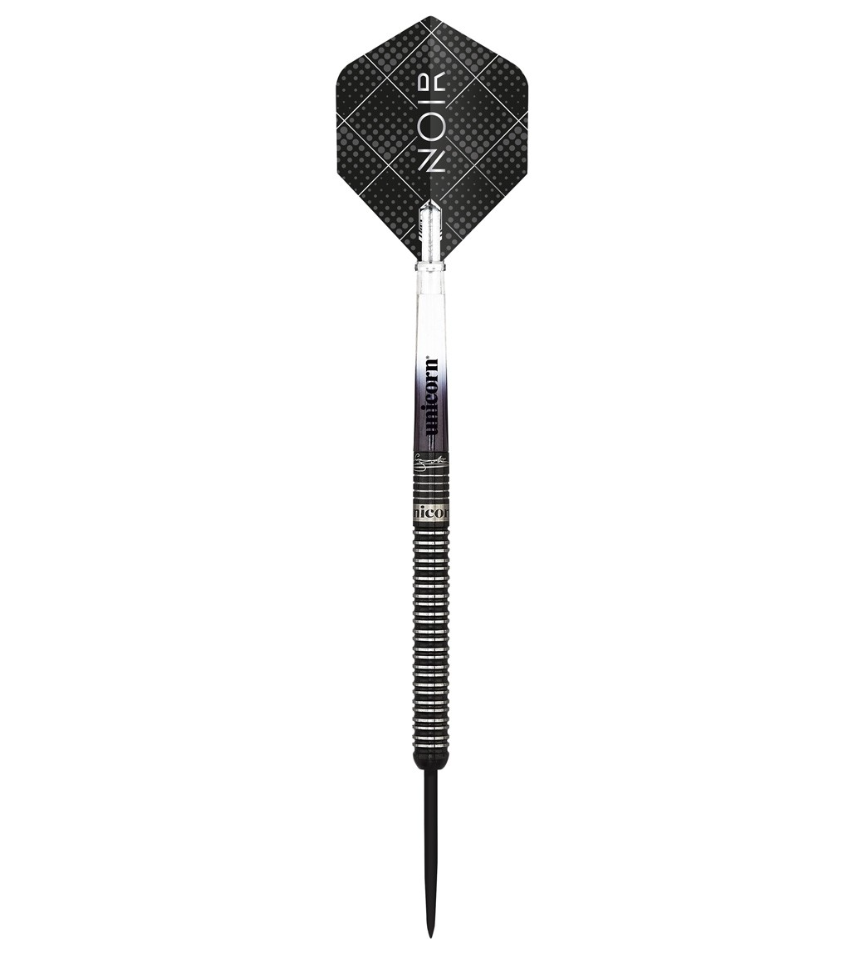 Anderson has also settled on his equipment again. 2021 and 2022 saw him flirt with a number of different barrels, chopping and changing between older trusted ones and new designs from his manufacturer. 2023 has seen him stick so far to his Phase 3 Noir darts, with a twist. According to Unicorn's Jack Dinning, Anderson has used the darts on and off for a couple of years but has now married them up with the newly released black volute points, designed for enhanced grip and reduced bounce outs. According to Dinning, Anderson is uncharacteristically enamoured with them: "He's using a modified version of the black volute points" explained Dinning. "They're longer than the stock version and the grooves are a bit different but they're effectively the same thing. He genuinely loves them."
With a revitalised outlook and a set up he is comfortable with, it'll be exciting to see what Anderson can do. After fighting the fight against both Phil Taylor and Michael van Gerwen at their respective peaks and still coming out with a multitude of major titles, his relative absence since 2019 has coincided with the disappearance of Taylor and the comparative decline of van Gerwen. Few would bet against him picking up more majors in the current environment, if he continues on this journey. In the two TV events of 2023, Anderson has been eliminated with averages of 99 and 111.
For now, let's bask in this legend enjoying his trade again.
Chris White
Anderson's Noir Darts can be found here: https://www.playwiththebest.com/noir-gary-anderson-90-tungsten-html
The black volute points can be found here: https://www.playwiththebest.com/2020-tri-pyramid-grooves-html