How will it pan out?
It's that time again! After many great matches and tournaments, it is now the biggest one on the calendar: the World Darts Championship. Until 3rd January, 96 of the best players on the planet will compete to crown a 2023 World Champion. Here I look ahead to how the draw might pan out, who the players in form are, and where the possible pitfalls lay for the big boys. The draw has been divided into eight sections and I'll review the key perpetrators in each. As well as using my automated FDI-powered predictor, I have looked at all the usual numbers plus a new model I have created to aggregate bundles of stats into categories. The usual ones you might expect apply: scoring, finishing and setting up. With the nature of set play and the difference it brings, I have also categorised what I have termed 'explosiveness' and 'key moments' which I think can really separate players in this format, where you can win more legs and still lose a match!
Section 1
Gerwyn Price, Jose de Sousa, Ryan Searle, Simon Whitlock and Raymond van Barneveld all grace this part of the draw. Price is number one on the PDC Order of Merit despite not winning a TV ranking tournament this year. 'Gezzy' is simmering though – he reached the final at the World Matchplay where he ran into a version of Michael van Gerwen that was about as good as we'd seen up to that point in the year (certainly in the scoring department). 'The Iceman' has also thrown no less than four nine darters on TV this season! That is a record, and we still have Alexandra Palace to come.
A possible opponent of the Welshman in the last 32 is Raymond van Barneveld. Thanks to a great performance at the Grand Slam in Wolverhampton a few weeks ago, 'Barney' is now officially a top 32 player again. That has its advantages and its disadvantages: he gets to skip the first round, but he will most likely face the #1 seeded Price in the third. Raymond has proved in Wolverhampton that he knows how to play against Price and has still not lost to him on TV.
Ryan Searle has had a somewhat disappointing year. He did manage to play his way into the world's top 16 but that has more to do with his results from the year 2021. This year, he has not reached the quarterfinals of a TV tournament. The difference between this year and last is that whilst Searle's numbers are very consistent (he is often out in six turns) he is lacking the explosiveness of 2021 – he is considerably less likely to be out in four turns this year and at this level, those bursts are necessary to go deep.
José de Sousa is the exact opposite: he is relatively often out in four turns but seems to have lost his lower limit. Because 'The Special One' failed to qualify for the Grand Slam, he has dropped from the 6th spot in the world rankings to the 17th spot. José did make the quarterfinals of the World Matchplay and the semifinals at the Masters in January. You couldn't say he is in form but he always has it in him to pull a 100+ average out of nowhere.
An outsider to win this section is Simon Whitlock. 'The Wizard' has fallen from the top 32 and so must play a first-round match against Christian Perez from the Philippines. Whitlock can still be dangerous as evidenced by his quarterfinal place at the Masters. He is not as consistent as he was in his heyday though, too often notching up averages of mid to low 80s and at this level you are not going to get away with that anymore. As such, I don't see him advancing past the second round.

In this section, I can only see one player advancing and that is Gerwyn Price. He will be most wary of Van Barneveld, but I believe he will have the measure of him this time around.
Section 2
The winner of Section 2 is therefore likely to face Price in the quarterfinals. Better-known names in this section include: James Wade, Danny Noppert, Jim Williams, Daryl Gurney, Beau Greaves, Alan Soutar and William O'Connor.
Wade is the highest-ranked player in this section, despite having a lean year by his standards. His last TV ranking semifinal was a year ago when he lost to Michael Smith here. Beyond that, he made another semifinal at the World Series of Darts Finals and the playoffs of the Premier League. One bright spot is that he won the last floor tournament of the year, but that euphoric feeling soon faded for 'The Machine' when he failed to qualify for the Grand Slam of Darts the following day. He is undoubtedly one of the most consistent players on the tour and his finishing has been in the top one or two for a staggering five seasons running now. He will never really drop below a lower limit but the reason he has not been able to compete to the same level this year is that he isn't finding the upper end of his game. Wade has a certain level and rarely operates wildly above or below it. When an opponent is above it, he sometimes doesn't have the answer and that could be a reason why he's not been at his best in this format historically.
Danny Noppert is a player under the radar. He won the UK Open, made it to the semifinals of the World Cup and the Matchplay, the quarter-finals of the European Championship and Players Championship Finals, and the last 16 of the Grand Prix and Grand Slam. This is an excellent return in the TV ranking events and maybe Noppert is close to a spot in the Premier League. Time will tell, and a good run at the World Championship would help immensely.
The best female darter right now is only 18 years old. Beau Greaves, who will make her debut in 2022, was still number five in the WDF Women's World Rankings at the turn of the year, which is remarkable to think. She was number two in this year's Women's Series after competing in only 40% of the tournaments and is on an unbeaten run of no less than 53 matches in the PDC. It has to be noted that whilst these feats are impressive, the levels of opponents are some way off what she will face at this World Championship, starting with Willie O'Connor. Unfortunately I think this was one of the worst draws Beau could have got in the first round: O'Connor is a very good player, close to the top 32 in the world, experienced on the stage and unlikely to be rattled. The winner of this match will play Gabriel Clemens in the second round and I would fancy them to topple him.
The favourite for me to advance to the quarterfinals is Noppert. Wade and Gurney have not shown enough form, and I actually see the biggest threat to 'The Freeze' as Alan Soutar. The likeable 'Soots' always seems to play uninhibited and has looked every bit a top 32 player lately, not least of all with his performances at the Grand Slam.
Section 3
This is the one I am most looking forward to. Michael Smith, Joe Cullen, Damon Heta, Martin Schindler, Martin Lukeman, Adrian Lewis and Jermaine Wattimena are all in this cocktail. High-quality, mostly fast players who can throw 180s for fun. This is going to present us with some great matches.
'Bully Boy' Michael Smith is finally a PDC TV ranking title winner. After a great 2022 in which he was in a TV final four times, the man from St Helens will now try to win the big one. His form is solid and he has now shown that he can not only make finals but win them convincingly. He stands a chance against anyone, but he does have a tricky draw. The second round (short format) may feature Jermaine Wattimena.
'The Machine Gun' has had a few lean years and is now quietly on the rise again. Of his last 50 matches in the PDC, Jermaine has won no less than 33: superb numbers for someone outside the top 32. The main question is whether he can take his floor form to the stage. In the Grand Slam he showed against Damon Heta that he can, winning 5-1, and partly because of that he advanced to the second round of that tournament. In his first match, Jermaine plays Nathan Rafferty, a talented young opponent who will present a stiff challenge.
Joe Cullen, like Michael Smith, won his first TV tournament in 2022 and missed out on winning the Premier League with the most expensive arrow in history on double 16. That miss by the finest of margins cost him £150,000 and a guaranteed place in next year's event. In TV tournaments this year, Cullen usually ends up in the last 16 or quarterfinals. Chances are that will happen again, and Smith will probably be waiting for him in the last 16.
Damon Heta is the world number one in floor tournaments, winning two this year and being the losing finalist once. Yet Heta is 'only' 20 in the world rankings because things are not yet going his way on TV. Leaving aside his win at the World Cup this Summer, he has only reached the quarterfinals of a TV tournament once this year – the UK Open in March where he lost to eventual winner Danny Noppert. Damon is a class act and it's time he showed that in TV ranking tournaments.
Other players to watch out for are Martin Schindler, who secured a tour card at the same time as van Barneveld and is three spots above him in the rankings, and Martin Lukeman who has made a name for himself on the Euro Tour and at the World Grand Prix this year. These are both players we are going to see as mainstays in the top 32 in the next few years and can have a good run at The Palace. Still, I think Smith is the clear favourite to come through and I think he will do so with another TV win over Cullen.
Section 4
In the final section of the first half, two names stand out: Luke Humphries and Dave Chisnall. Players like Stephen Bunting, Vincent van der Voort and Cameron Menzies are also in this section.
Humphries already seems certain to qualify for the Premier League next year. He has won four Euro Tours and has also had some very good results on TV. Reviewing his statistics it is hard to find weaknesses. His worst category, relatively speaking, is 'Key Moments' and yet he is still better than 93% of all 128 PDC tour card holders. In short: a serious contender.
Chisnall is someone with whom it can freeze and with whom it can thaw. In August and September he was on a great run in which he won a Euro Tour in Belgium. Unfortunately, that did not translate into a good autumn; Chizzy did reach the quarterfinals at the European Championship but faltered in his Grand Slam group and at the Players Championship Finals. It has taken epic performances to beat him at The Palace in recent years and his explosive spells of 12-darters or less means he is always dangerous, and particularly in this format.
Like Chisnall, Stephen Bunting is defending a semifinal place from two years ago. 'The Bullet' had a great run in which he beat the likes of Wade, Searle and Ratajski before losing against Price with the second highest checkout percentage of any beaten semifinalist in World Championship history. It's not really Bunting's year so far: he has only won two matches in TV tournaments. As a result, I don't expect much from him; his first opponent of note would be Chisnall and I think that's also going to be his Waterloo. Chisnall has put him to the sword the last few times they have played on stage and I couldn't see him getting past his pal this time either. Unfortunately that could mean Bunting doesn't make the Masters in January.
After years with some physical discomfort, things seem to be moving in the right direction again this year for the 'Dutch Destroyer', Vincent Van der Voort. He has been a regular in the top 32 and that will continue to be the case after this tournament if he wins his first match. Vincent missed out on qualifying for the Matchplay, Grand Prix and Grand Slam this year and he will have to do better next year if he wants to be seeded again at the 2024 World Championship. His set-up play is the strongest point of his game recently, but unfortunately his scoring doesn't afford him enough chances against the top players.
This section is most likely going to be prey for Luke Humphries or Dave Chisnall until they meet, and I think Luke will get the job done and make it to the quarters.
Section 5
Peter Wright's main challenger should be his former lodger, Dimitri van den Bergh. These are two players who have failed to perform to their full potential in 2022. Perhaps one of the underdogs could sneak to the quarterfinal here?
Maybe in part due to some personal challenges, assessing Wright's form involves a lot of guesswork. After his win at the previous World Championship, he has yet to secure a final spot on TV and at his last tournament, the Grand Slam, he failed to qualify for the second round. What does favour 'Snakebite' is that he always manages to find his form quickly after a bad spell. In 2021 he had not shown much after his dominant win at the World Matchplay, then managed to regain his zest for the big one. Should he repeat that, he will become the new world number one (again) and will match Michael van Gerwen with three world titles. How he would love to do that, but he has plenty of hurdles to clear.
The biggest one is Dimitri, who is having a bad year himself. He is now 15th in the World and in danger of dropping out of the world's top 16. His best results on TV in 2022 have been a semifinal at the Matchplay and a quarterfinal at the Grand Prix. Dimitri has proven to be up there with the most reliable in decisive moments though, when the pressure is on. His scoring falls just short of world-class in 2022 which means he has been having fewer chances on doubles when taking on the big guns. A first test will probably be against Rowby-John Rodriguez.

Apart from Wright and Van den Bergh, the other contenders in this stretch are Krzysztof Ratajski, Kim Huybrechts, Keane Barry and Rowby-John. Of this foursome, only Rowby-John has had a good season but the others have shown before that they have it in them to make things very difficult for even the best of opponents.
Despite the problems, I think Peter Wright will be the quarterfinalist from this section. His ability to gear up for certain tournaments gives me confidence that we will see a good version of him.
Section 6
In the sixth section of the schedule we see three strong contenders to reach the last eight: Nathan Aspinall, Jonny Clayton and Josh Rock.
At the beginning of the year there was a chance we would never see Nathan Aspinall play at the top level again but 2022 has so far been the year of 'The Asp's' resurrection. At the end of 2021 he suffered a wrist injury and played the 2021/2022 World Championship with it taped up. Since then he has made it to the final of the Grand Slam and the World Grand Prix. He also got a quarterfinal place at the Matchplay and has won and appeared in finals multiple times on the Pro Tour. Aspinall is a man in form and his statistics show that he is deadly at important moments in matches.
Last year was rightfully the year of The Ferret. Jonny Clayton won no less than four TV tournaments, in contrast to this year when his tally stands at zero. Despite the fact Clayton finished handsomely at the top of the Premier League, we may label his 2022 so far as pretty lacklustre. Semifinal places at the World Series of Darts Finals, Players Championship Finals and the Premier League are Jonny's best results of 2022. He has never made it to the last eight at the World Championship in his career. Could that be about to change?
Josh Rock is the new sensation. This time last year nobody knew the Northern Irishman and now he is seen as a future number one and World Champion. Rock won a tour card at Q School at the turn of the year, won his first PDC Pro Tour tournament and has now made his debut on TV. Not only that, he threw a nine-darter in the second round of the Grand Slam in a classic match against Michael van Gerwen. A great player, a great talent. The scoring of 'Rocky' is among the very best, he has irresistibly explosive spells and can snatch a bunch of legs from you in the blink of an eye.
I'm going to go with Aspinall in this section though. Clayton and Rock have a good chance of making the last eight and the advantage for Clayton is that Aspinall and Rock are likely to meet earlier. Other players in this section are Jamie Hughes, Brendan Dolan and another prodigious talent: Callan Rydz. None of them have shown enough in recent months to make me think they would worry the other three.
Section 7
This is the most difficult section to come through. Michael van Gerwen, Dirk van Duijvenbode and Ross Smith have all been in TV finals this year and won tournaments. Van Gerwen is always a shoe-in for the Premier League and the other two will be in the conversation as well.
Michael has shown the world again why he is seen as the benchmark for all other professionals. In the first part of the year he was a bit erratic. In June he won the Premier League before going under the knife the next day for an intervention in his throwing hand. Just under two weeks after that surgery he lost in the quarterfinal of the World Series of Darts Finals in Amsterdam but as the World Matchplay got into its stride, so did Mighty Mike. The beast was unleashed and MvG went onto to win the Grand Prix and the Players Championship Finals in dominant style. Only the World Championship remains to make this season an unforgettable one, even by his standards.
For Dirk, the absolute breakthrough seems very close but has not quite happened, He reached the final of the World Series of Darts Finals and got match darts for a PDC TV title for the first time in his career. It was not to be and Gerwyn Price eventually won 11-10 in a thrilling affair. Dirk has had plenty of other good results on TV, reaching the semifinals at the World Cup, quarterfinals at the Matchplay and Players Championship Finals. For me, he would be the dark horse for the tournament were it not for the fact that he is in the worst part of the draw. But who knows; he has the ability to surprise Michael.

Until the Summer, Ross Smith was possibly having his worst year in the PDC. He has more than made up for that and possibly taken a definitive step towards the top of the game. Outside his win at the European Championship in October, his best results are Last 16s at the Grand Prix and Grand Slam. The weakest parts in Ross's make-up are his doubles and his consistency. His doubles at the European Championship were immense and he carried this into the group stage of the Grand Slam before they let him down against Humphries in the Last 16. At the Players Championship Finals he didn't miss a dart at double against Gian van Veen then threw away opportunities in the next round against Clayton in a match he should have won. His standout strengths are 180-hitting and his ability to string sequences of legs together where he is extremely difficult to live with.    

Michael van Gerwen has to be the big favourite to reach the quarterfinals though. In fact, his chances are estimated by my FDI system to be as high as 75%. MvG's form is there and he will really want this. Nobody has beaten him at the World Championship with an average of under 100 in over a decade, so good luck to any opponent trying to stop him.
Section 8
In the last part of the schedule, Rob Cross is the highest-ranked player. Chris Dobey and veterans Mervyn King and Gary Anderson are also vying for the last quarterfinal spot. It has been a steady if unspectacular season for Cross and the last tournament was encouraging. At the Players Championship Finals he beat Kevin Doets, Gary Anderson, Martin Schindler, Dirk van Duijvenbode and Jonny Clayton before losing to Michael van Gerwen in the final. Only once did he record an average below 96. 'Voltage' has a strong all-round game with minimal weaknesses and if he can continue where he left off in Minehead last month he could go a long way.
Chris Dobey is a great talent with a very watchable style of play and this year he has got some reasonable results on TV, namely a semifinal at the European Championships and a quarterfinal at the Grand Prix. Even more credit is due to him as those performances followed his capitulation against Cross at the Matchplay, which hurt him. He is in a tough part of the draw and probably needs to win against Anderson and Cross consecutively to progress. It is certainly not beyond him, but his doubles need to start going in more than they generally have in the past 12 months. Finishing is the achilles heel of 'Hollywood', whilst his scoring and set-up play are up there with the best.
The same applies to some extent to the recent, part-time version of Gary Anderson. His doubles let him down too often and unlike yesteryear, he doesn't blast people off the board with his scoring like he used to. When Ando is in the mood he is a joy to watch, although we have not seen that from the two-time world champion often in 2022. After the last World Championship 'The Flying Scotsman' has not reached the last 16 once in a TV ranking tournament. He usually manages to get himself up for this one but there's only so many times you can turn the tap on and off at will. I fear that we could have seen the last of this legend of the sport in the world's top 20.
Other dangerous customers are Mervyn King and Ryan Joyce. Joyce in particular has been in form in the last few weeks – he beat Price and Wattimena in Minehead and qualified fairly easily through the qualifier for this event by beating Max Hopp and Jamie Clark, among others.
Matt Campbell and Scott Williams could also spring a surprise, but this section is between Cross and Dobey as far as I am concerned, with Cross coming out on top.
Last Eight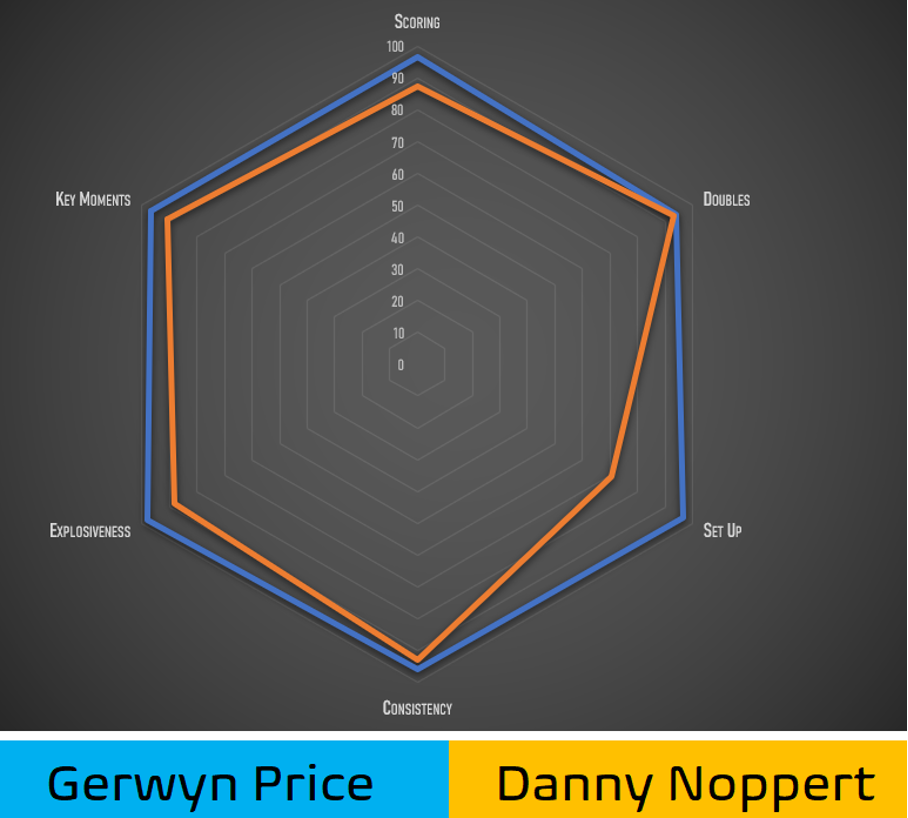 If all of that goes to plan then we will have a last eight of:
1. Gerwyn Price v Danny Noppert
2. Michael Smith v Luke Humphries
3. Peter Wright v Nathan Aspinall
4. Michael van Gerwen v Rob Cross
No doubt two, three or maybe four other names will end up in the quarterfinals that are not on that list, but for this forecast we will go with these eight names.
In quarterfinal one, only in the finishing department are both players equal . On all other metrics Gerwyn Price has the egde and for that reason, I see him moving into the last four.
Michael Smith and Luke Humphries are incredibly close if you look at both their form (FDI) and their stats from the last 12 months. Smith has a bit more experience and has that major under his belt now, but I am still going to go for Luke to get through. I am going for him mainly because his 'Key Moments' stats are slightly stronger than Smith's and in a match of that calibre with so much at stake, that's what I think it will boil down to.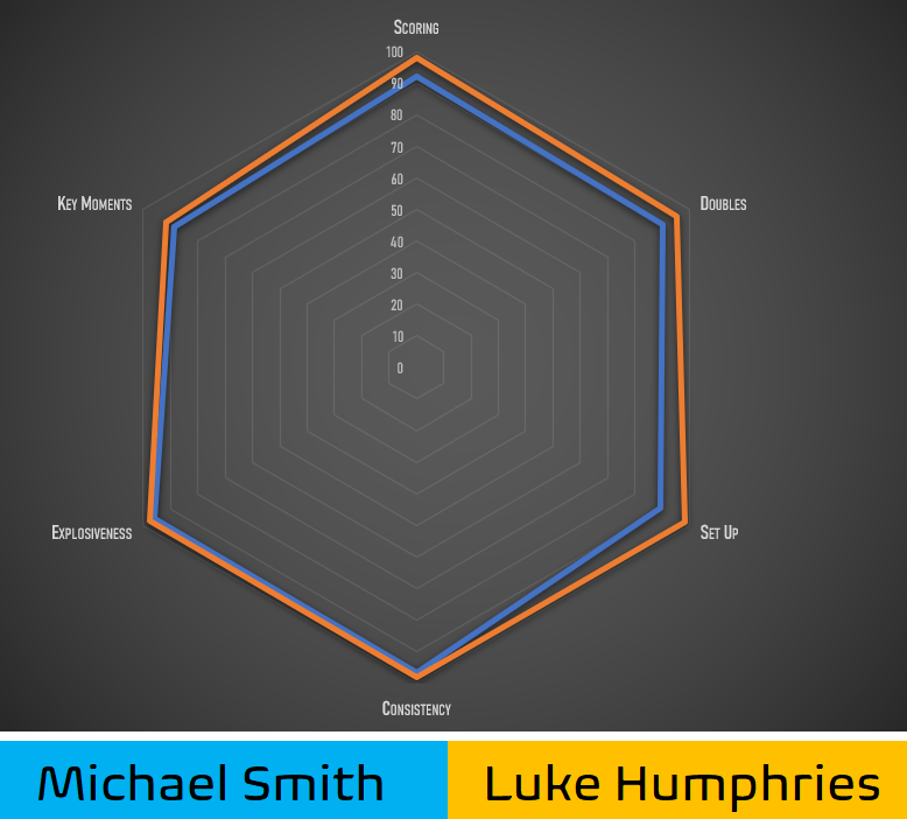 Peter Wright's numbers are superior to Nathan Aspinall's in most departments despite Aspinall fairing better in the TV events this year so far. I am backing Wright to find his form and be in the semifinals.
The last quarter-final between Michael van Gerwen against Rob Cross is a van Gerwen win. He has been stringing together win after win for the last six months, especially on TV, and I fully expect to see him in the semifinal line-up.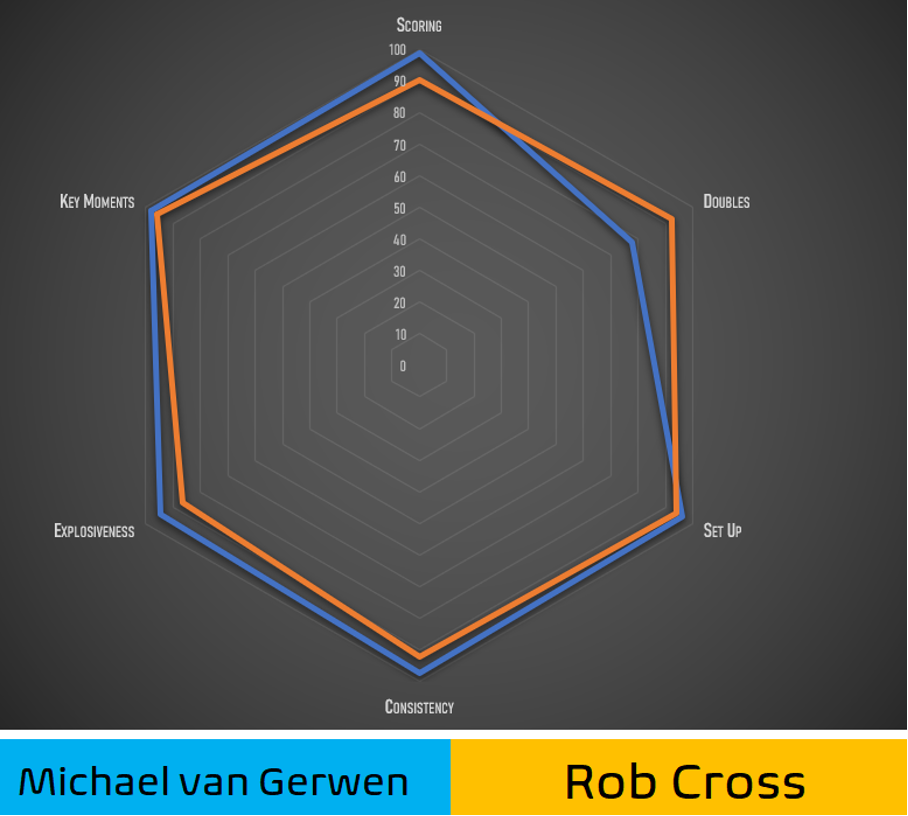 Last Four
The first semifinal would be between Gerwyn Price and Luke Humphries, neither of whom has grabbed a TV ranking title this year and they will be hoping to change that. I expect Price to get to the final – his form has been building, he is a player who very often puts in his best when he really has to, peaks at the latter stages of events and has an A-game that is absurdly high.
The second finalist comes from the potential match between Peter Wright and Michael van Gerwen and I think Michael will be too strong, just as he was in the Grand Prix.
Final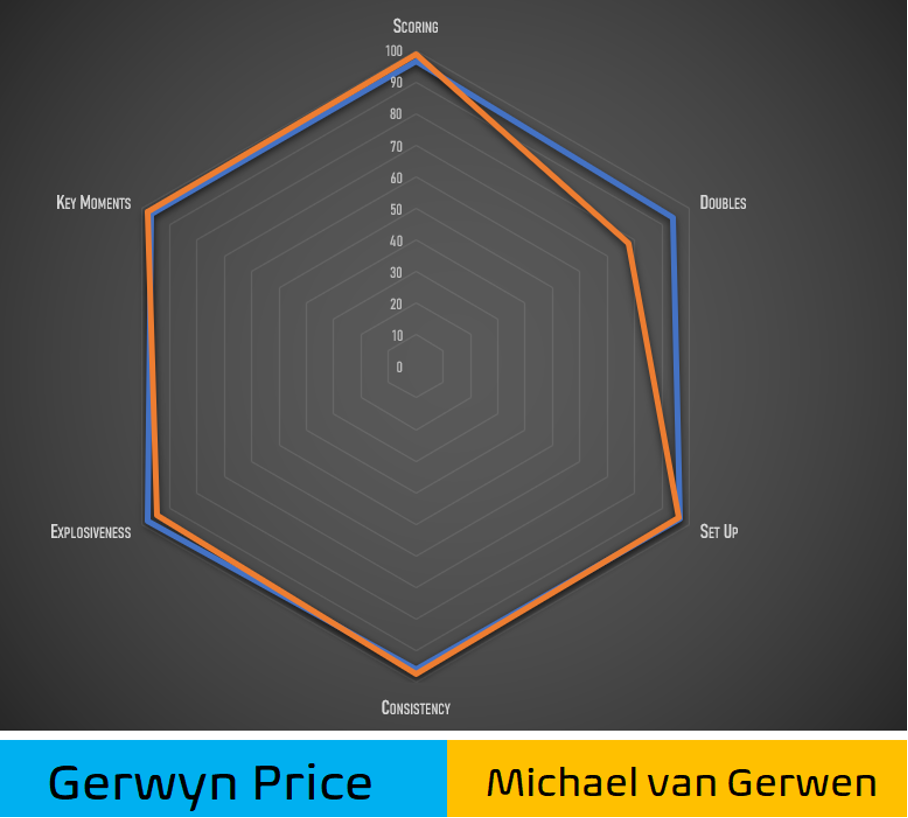 According to my FDI system, there is a 9.9% chance that this will be the actual final. Even though it seems like a small percentage; of all 2304 possible finals, this is the most likely. Judging by the duels between them and the form over the past year, I think Michael van Gerwen will be the eventual World Champion. According to our previously mentioned system, he has a 45% chance of lifting the Sid Waddell Trophy on 3rd January 2023 and this is higher than anybody else. So I'm going with that.
Lendel Faria